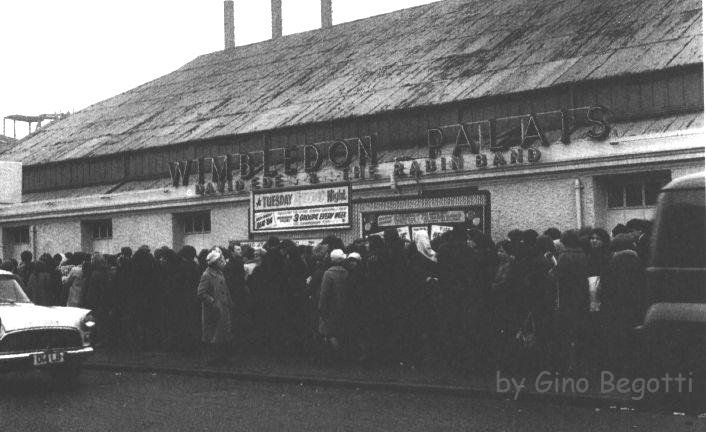 1963, The Beatles

by Guido Carretto
---
Gino Begotti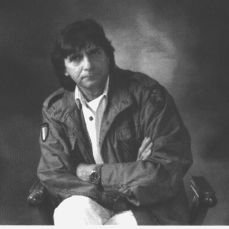 Photographs
---
Is December, 14th 1963 when on the creaking raised wooden plank floor (calling it a stage would be optimistic) at the Wimbledon Palais in London, in a lower rank compared to "David Ede & The Rabin Band", without even a quotation on a sign-board and playbills, a beat band of an alternate past, a wobbling present and presumably an opaque future, goes on.
They are four polite boys of Liverpool - John Lennon, Paul McCartney, George Harrison and Ringo Starr - exhibiting in dark suit and tie, well pressed shirt with rigorous stud collar: the only extravagance, a typical hairdo looking like the colbacs of the Queen'Guards boiled in a wrong washing. Three of them are handsome, pinching lightly their guitars and singing with gracious voices; the fourth one bear a rare ugliness, he beats with rudeness the different instruments of the drum, and according to someone he is out of time.
The audience, mostly female, is carried away, even without loosing their self control: so much that at the end of concert they will line up with discipline along the bar counter where the four of Liverpool kindly dispense autographs and smiles while drinking black coffee.
It is the last time. Still few months and those four will becom the most famous band of the world, in the center of a universal delirium. And to the few lightnings who lighted their route - october 4, 1962: Love me do, and in that 1963 Please please me - there will add up such and as many to make their career the most blazing ever seen in light music history.
In 1961, in January, they performed at the Queen's Hall in Aldershot in front of eighteen persons. John, George and Ringo wished to give up everything, but Paul convinced them: "If we are professionals then let's show it".
On February 1964 they will land and break out in the U.S.A.. A triumph, one after the other, till December 30, 1970, when Paul McCartney, just the one who in the hard days held the group together, he will apply at London Court asking the group dissolution.
Prehistory in 1957, when Lennon founded with schoolmates the Quarrymen; in 1957 a fifteen year old Paul McCartney entry, a little after, George Harrison. Prehistory were those ill-frequented caves in Hamburg. Prehistory was desertion of the first drammer Pete Best, fed up in waiting an evermore improbable fame, end the "go to hell" of a bassist who thronged with them but after he considered them not reliable for the job.
In the middle, The Times declaration as: "The Best English Musicians Ever", and from the Sunday Times: "The Greatest Composers After Beethoven". A scandal self-definition as: "We are more famous than Jesus Christ". The baronets title for all. Nevertheless theirs hasn't been a true revolution. Lennon was right when he said: "Us Beatles we haven't starded anything: but at the same time with us something began in those sixties, that doesn't give any sign to reach the end. Only that, to see it rise and understand what was rising were just a few particularly far-sighted.
That December day, at the Wimbledon Palais, a ballrom, also hosting catch fights, a young Venetian photographer gathered the audience, fast as a ferret, and watchful as a cat, who realized in the Beatles the spark expected to ignite the great fire. And all day long, before, during and after the concert, he "tormented" them with his lens.
The young boy was named Gino Begotti, 35 years after, while giving to the press this precious photographic anthology, he, hesitant, asked me a script, few lines to accompany that bunch. As an old fan of the Beatles, and as a friend of him and his estimator, I accepted right away: and here I will answer to his "thank you", and say that I'm grateful to him.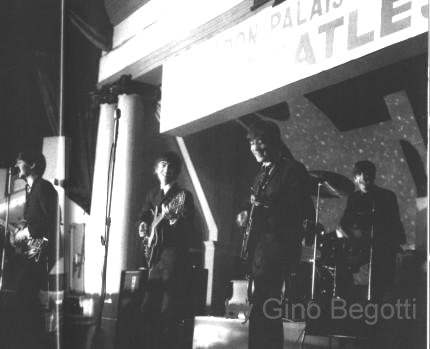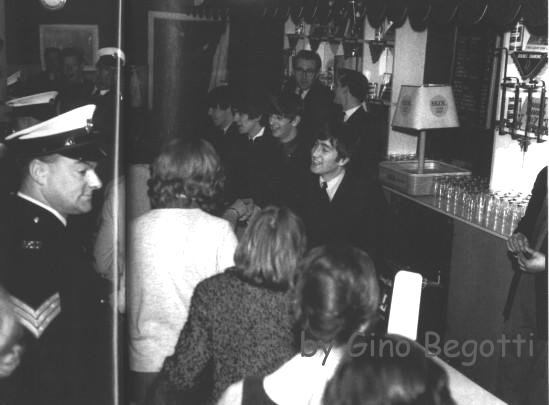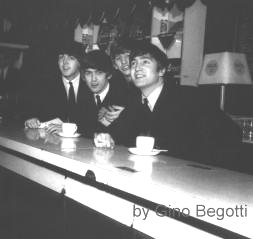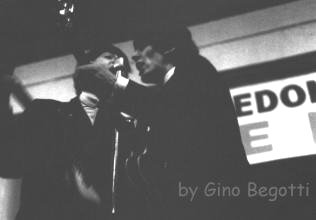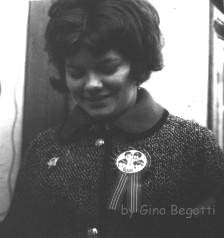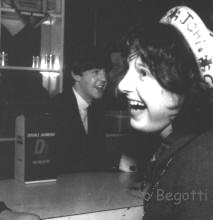 The Exibition of Wimbledon
seen by Mark Lewisohn