VISIT IN ITALY
ORGANIZATION OF ITALIAN TOUR:
IMPRESARIO: Leo Weachter
COMPERES: Rossella Como e Lucio Flauto
SUPERINTENDENT: Valerio Vancheri
TEAM-MANAGER: Gianni Minà
SUPPORTERS: Le Ombre, I Giovani Giovani, Guidone e gli Amici,
Angela e il Gruppo Guidone e gli Amici, i New Dada, Fausto Leali e i Novelty,
Peppino Di Capri ed il suo gruppo.
REPERTOIRE: Twist And Shout, She's A Woman, I'm A Loser, Can't Buy Me Love, Baby's In Black,
I Wanna Be Your Man, A Hand Day's Night, Everybody's Trying To Be My Baby,
Rock And Roll Music, I Feel Fine, Ticket To Ride, Long Tall Sally.



Thursday 24 - Mondey 28 June 1965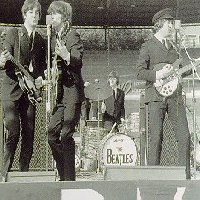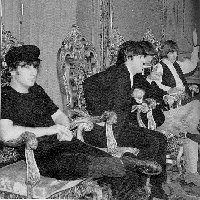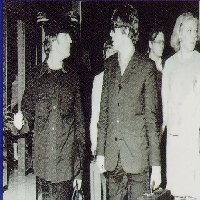 MILAN
The Beatles' only visit to Italy saw them play in three cities,
beginning with two shows in Milan at the Velodromo Vigorelli - seat open-air arena, at 4.30 and 9.30 pm.
The afternoon show attracting just 7000 spectators while the evening concert was seen by 20.000.

ARRIVE
VIGORELLI
DUOMO
GENOA
Two performances at Palasport (25.000-capacity), at 4.30 and 9.30 pm, Fridey 25 June.
The show in the afternoon was seen by just 5.000 spectators.
The Beatles spent little time in Genoa, arriving from Milan in the morning
by road and then flying off to Rome in airplane, immediately after the second show.


COLOMBO HOTEL
PALASPORT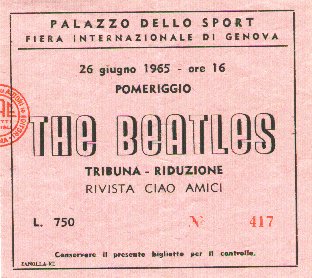 ROME
A total of four shows in Rome, at 4.30 and 9.30 pm on each of these two days, at
Teatro Adriano Sunday 27 and Monday 28 June.
The Beatles flew on to Nice at 11.35 am on 29 June.


ARRIVE
ADRIANO THEATRE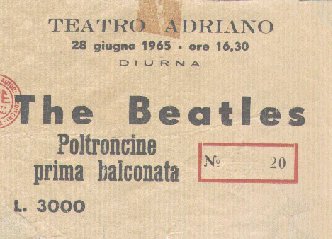 DURING PRESS CONFERENCE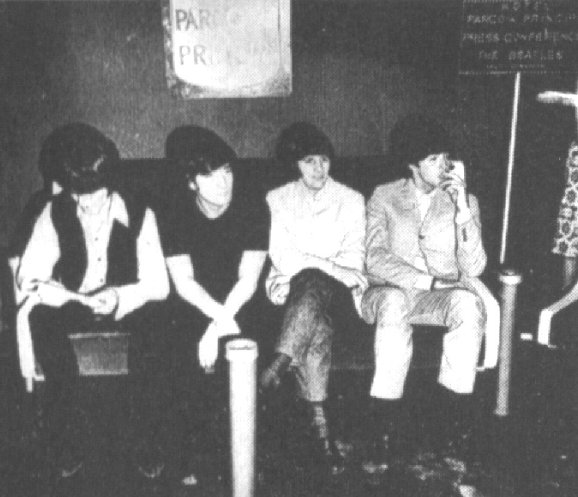 Rome. At the Parco dei Principi Hotel.

---
Copyright © 1997-2002 Salvatore Libertino All rights reserved